Mystiken tätnar på Crop Circle-konferensen
Många olika grupper av undersökare är ute på fälten. De mest ambitiösa försöker kartlägga  egenskaper och fysiska parametrar kring sädescirklarna.  Andra gör innovativa tester som att placera ut Parkinsonsjuka i cirklarna och se om det kan ge hälsoeffekt.
Den norska Crop-circle undersökaren Eva-Marie Brekkesto har intervjuat många människor som har sett ljusfenomen på himlen i samband med att sädescirklarna uppstått. Men där ungefär tar informationen slut. Överblicken och synkningen mellan grupper och intressenter saknas och det är dåligt med hårda fakta.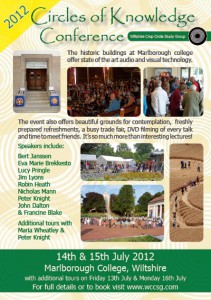 Så. Mystiken kring Crop Circles består och är ett lika spännande alternativt resmål sommaren 2013. Till dess kan jag varmt rekommendera undersökaren Lucy Pringle om du vill läsa det som står på och mellan raderna.
 The Crop circle-conference did not reveal the mystery
Many independent research groups are out in the Corn fields. The ambitious ones are trying to map the phenomena in regards to physical parameters; geographical position, size et.c, while others use their creativity and put up test with persons troubled with Parkinson´s disease  to see if it will give any effects.
The norwegian researcher Eva-Marie Brekkesto has interviewed a lot of people that, regardless of each other, claims the´ve seen light phenomenas close to the Crop circles. However, the overview picture is missing and there are no professional administration nor information between all the research groups. So. The Crop Circle mysticism remains and, for my concern, this is a smoking hot target next year too.
I recommend the researcher Lucy Pringle if you want further, deeper and wider information  http://www.lucypringle.co.uk/
The Circle of Knowledge Conference is highly recommended too.